AR Instructor
iPad and Mobile
Digital solutions continue to transform industries as smart manufacturing, Industry 4.0, and digital transformation bring an array of new technologies into the workplace. The need for the workforce to grow with technology while also maintaining, or transitioning, their hard-earned skills to new team members, has put pressure on organizations across the globe. The recent challenges associated with travel have further exacerbated the situation and accelerated the deployment of new technologies putting an ever-increasing strain on front line and other workers who need to keep pace with rapidly evolving innovations.
AR Instructor, through the innovative use of augmented and mixed reality, can help. AR Instructor provides on-the-job guidance using previously prepared step-by-step augmented reality instructions. The use of AR is proven to optimize operations, reduce errors and increase safety with easy-to-understand visual instructions that overlay the real world. AR Instructor offers advanced use of digital twins and 3D models provides a new way to interactively author AR procedures without being on location. In addition, the user is provided visual prompts to guide the user as they execute a given set of tasks. Each step of a guided workflow can be illustrated with video, documents, images, and 3D models superimposed on objects in the user's field of view.
Streamlined AR Workflows
AR Instructor workflows have two modes of operation: 'With Equipment' and 'With Digital Twin'.  With Equipment workflows may include 3D content, videos, instructions, annotations, and documents that overlay real-world objects such as machinery, IT equipment or other items.
Digital Twins also provide an effective method for authoring procedures and instructions without the need to be on location.
3D content is aligned with the real-world either using a QR code marker placed on the physical equipment or manually aligning a 3D model "anchor" with an easy-to-use alignment tool.
The Digital Twin option allows interactive training and offsite instruction scenarios without being on location with the physical equipment. This enables team members to follow operational steps using 3D models for training, upskilling and familiarization.
Key Features
AR Instructor offers a comprehensive suite of capabilities including:
Step-by-step AR guided workflows using augmented reality overlays
AR content including 3D models, videos, images, documents and annotations
QR code or computer vision based alignment with the real world
Digital twin workflows for interactive training using 3D models
Authored workflows can be shared by users in an organization
Remote expert collaboration with "see what I see" video and remote mark-ups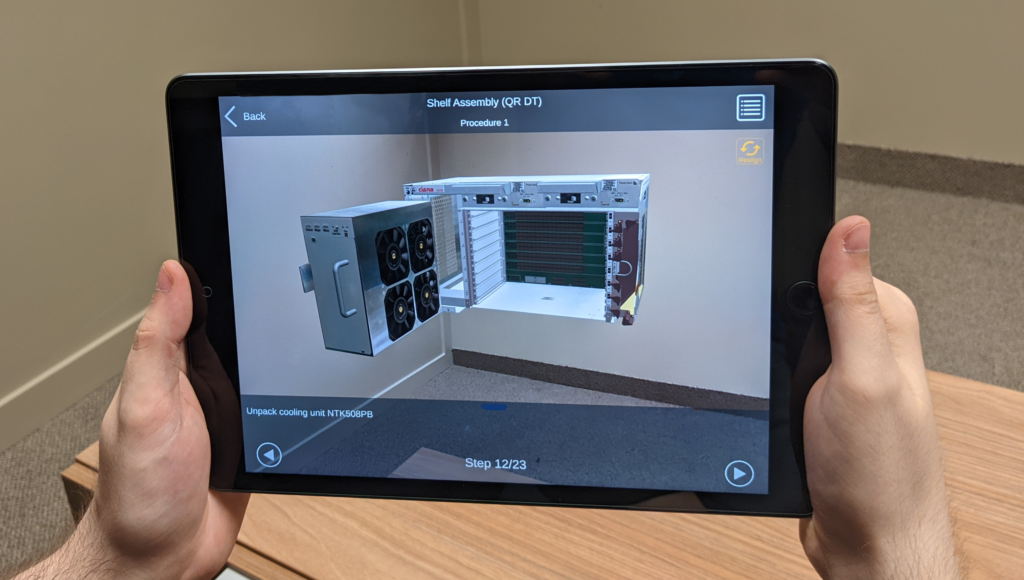 Working with Video, Documents & Images
The AR Instructor video player allows the user to play video segments automatically or on demand. Videos can be paused, or replayed, during workflow execution. The placement and size of the video display panel are managed by the user and can be resized or relocated as required. During workflow authoring the video content may be imported from the smartphone or tablet.
In addition to videos, documents and images can be brought into the AR scene. The document player allows PDF documents to be referenced and displayed while the image player does similar for JPEG & PNG images. Specific pages or sections can be pre-referenced in the document player to ensure the document will be opened quickly at the appropriate task instruction.
Remote Expert Assistance
The Arvizio Remote Expert application allows a remote product specialist to guide a field technician or partner through an operational procedure. With travel restrictions in place in many parts of the world this capability has become ever more important for support teams to assist and guide remote team members.
The Arvizio Remote Expert tools allow the video and audio feed from a remote AR device to be shared in real time among several team members. Workflow steps, 3D model content and annotations visible to the AR equipped field member are visible to all participants to closely monitor the entire process.
The Remote Expert can also capture still images from the AR device on site and annotate the image with additional information such as free form drawings, circles, and arrows. These annotations are mapped to 3D objects visible on the AR device and are then visible to all members participating in the session. The benefits of combining guided workflows with remote expert assistance in a single integrated solution are significant.
Many operational procedures can be guided by the software however specific procedures, requiring expert assistance for validation, or additional oversight, can be seamlessly incorporated in the workflow.